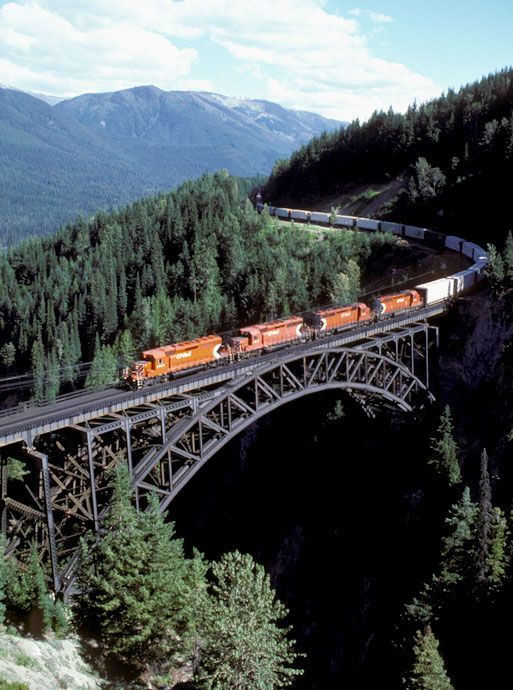 Great Rail Journeys
Our own Driving Creek Railway began as an industrial tool for our illustrious Potter, Barry Brickell. And grew to also become fun thing to take the children for a ride on, a Mark Twain style of adventure and is now a "Must do" for visitors to the Coromandel.
The Canadian Rockies stunning scenery is now accessible to the leisure traveller, the artist or the adventurer via the "Rocky Mountaineer" and was created from Canadian Pacific Railways constructed to meet the need to connect the great explorers to Eastern and Western Canada.
To travel by rail is no longer just a means to an end it also plays an integral part in our travels far and wide and well worth considering when you are planning your next adventure. Rail journeys can and do add a whole new perspective to many amazing countries.
At home there is no better way to take in our beautiful scenery. We have the Northern Explorer through the middle of the North Island via the famous Raurimu Spiral, a feat of railway engineering in 1898. The Coastal Pacific hugs the beautiful coastline between Picton and Christchurch and the Tranz Alpine is one of the world's most scenic journeys across our Southern Alps between Christchurch and Greymouth.
We can explore the vastness of Australia easily with its huge rail network. Trans- continental, there is The Ghan, Adelaide to Darwin. Indian Pacific, Sydney to Perth and The Overland, Melbourne to Adelaide. Options are economical daynighter recliner seating to twin or single sleeper cabins plus exclusive private carriages for small parties or conferences.
Recreate the steps of early Canadian explorers, travelling through the legendary Spiral tunnels on the journey from Vancouver to Banff with Rocky Mountaineer, choosing between Redleaf, Silverleaf and Goldleaf service, from spacious reclining seating to the glass dome coaches of Goldleaf with its elegant dining and all-inclusive services. The Alaska Railroad can add another dimension to your cruise of the famous Inside Passage, enjoy this vast land with its breath-taking scenery and incredible wildlife with knowledgeable tour guides whilst travelling in Adventure class or Goldstar's new all-inclusive service.
Further afield, Machu Picchu's Vistadome immerses you in the Andean culture with music and local food and incomparable views from panoramic windows, perfect for the photography. Or you could indulge in a more traditional experience on the Hiram Bingham train.
You can avoid the congestion of India's roads and rediscover a bygone age when you embark on Maharajas' Express. They offer 3 to 7 day journeys, a world of high teas with Maharajas, elegance and opulence. See Western and Eastern India's architectural wonders, the Taj Mahal, the Amber Fort and at Ranthambore maybe a tiger. Visit the sacred city of Varanasi and experience a cruise on the river Ganges, on included Off-train excursions. Or indulge yourself in a Royal retreat when you board the Palace on Wheels to explore majestic Rajasthan.
South Africa offers luxurious Rovos Rail with a series of train journeys from 3 to 14 days to some of Africa's greatest destinations. From Capetown through to Dar es Salaam in Tanzania, on trains that may be hauled by diesel, electrical or occasional steam locomotives on various stages of the journey. Or travel on The Blue Train, described as a five star Hotel on Wheels. A unique concept, is the Shongololo Express offering four adventures to experience Southern Africa. Travel the long distances at night in your own comfortable compartment and wake each morning to a new and exciting destination. Fares include off-rail sightseeing and game excursions with professional guides sightseeing in air-conditioned touring vehicles.
In a similar style, explore Northern Spain on board El Transcantabrico. With two fascinating itineraries from Santiago de Compostela you will view this more remote area of countryside from the comfort of the train. Plus coaches are included for sightseeing that is not accessible from the train. Enjoy Spain's' exceptional cuisine, with overnight stops at railway stations along the way.
Step back in time to the Roaring Twenties when you board Venice Simplon-Orient-Express and become part of its history. During the day your cabin is configured as a lounge becoming at night, a cosy bedroom. Indulge in the two day classic journey from London to Paris or travel on to Venice, Vienna, Budapest or Prague. Once a year it is possible to relive the golden age of travel when the maiden journey of the Orient Express of 1883 from Paris to Istanbul is re-enacted.
In some countries railway stations are located at the international airports and offer easy airport to city shuttle services. You can simply purchase a one way ticket to a destination. And if you have a lot of places to visit, consider purchasing a rail pass that gives you a reduced rate for a set amount of days and pre-determined stops. High speed trains travelling at up to 200kms per hour offer easy and fast connections across Europe. With only a 30 minute pre-departure check in and early booking fares, trains are a relaxed alternative to air travel and can be comparable in fare. First and premier classes include dining and beverage service to your seat. Overnight sleeper berths are an alternative to hotel accommodation, especially good for travelling distances overnight.
A rail journey is a unique experience and one that will further enhance your travels around the world.
back to top