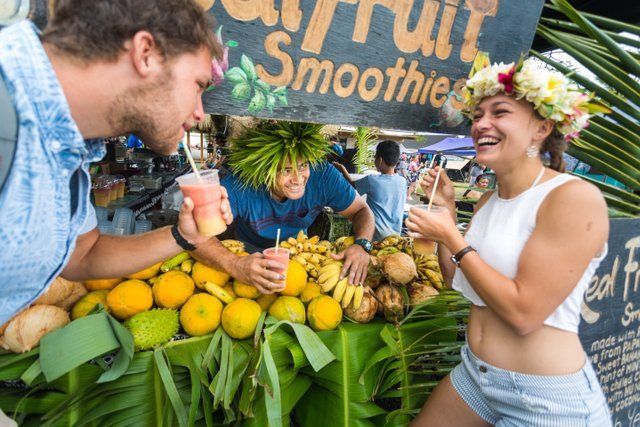 Holiday in the Cook Islands for a relaxing treat
Be prepared for crystal clear waters, a wonderful climate, relaxing, exploring and the wonderful Cook Island people, the best holiday combination.
Firstly, make yourself familiar with the Cooksafe travel guidelines and install the Cooksafe+ app on your phone for easy scanning and keeping safe on your holiday. On arrival pick up a Visitor Sim card, currently $49, at the airport for calling locally. Ask us, your travel agent to pre-book some of your dining experiences, remember that this is a small island and restaurants/cafes, and bars may be fully booked, don't risk missing out especially If you have a special occasion to celebrate.
If you prefer to travel on your own, feel safe and comfortable by pre-booking private transfer, car transfers are available from the airport and all around the island. Private flights are also available to the other islands, there are daily scenic flights from 2 persons only. Private boat charters, lagoon tours, whale watching, snorkelling trips and sunset bubbles excursions. If you prefer to self-drive as well as the regular rental car services, you can also book a luxury car rental or convertible.
Kickstart the unwind process with a local Spa treatment, massage, body wraps or scrubs, maybe indulge in a beachside treatment, try out the Rito Cook Islands products available at several spas. There are local Yoga classes, why not try out the SUP Yoga class on offer in Muri Beach and suitable for all fitness levels.
Most of the accommodation in the Cook Islands is very close to the beach and no properties are taller than the tallest coconut tree. There's a large selection of upmarket resorts and villas for the perfect family getaway, the ultimate in privacy, as well as adult only resorts. There are also private holiday homes to cater for all budgets. For a unique, eco-friendly experience try Glamping in a tropical garden setting.
Dining in the Cook Islands is very similar to dining out in Auckland and a great experience. There are the Punangi Nui markets and the Muri Beach night markets. The night markets and Saturday market are cash only and I suggest getting there early to get the best pick of food and produce.
Indulge in the incredible local cuisine from quality restaurants with fine dining to casual poolside dining. If you don't want to leave your holiday home, hotel or villa, order Island Platters, breakfast dinner or picnic platters and many restaurants will deliver all around the island. A private chef can be pre-booked too.
On Aitutaki lagoon dine on your own private sandbank. Sunset vibes with delicious food and incredible cocktails. Local fish, as fresh as could be, plus loads of family friendly cafes, bars and restaurants. Nightlife is fun with Tik-e tours Sunset cocktail tours, Going Troppo, on a 22 seater coach for Friday and Wednesday nightlife fun. Rehab Night Club & Raro Pub Crawl with fun local guides taking you to visit a few local pubs and taking you home too.
Give your taste buds a treat with some of the amazing Dining experiences in the Cook Islands.Here are some recommendations to pre-book prior to your departure.
The Moorings Cafe - for a fresh fish sandwich. Cash only and amazing. Closed on Saturdays
Michele's - for great tuna sashimi and it's a little shack set up so authentic and cool. There is also Bite Time next door that I really like too
Tamarind House or Antipodes - For nicer dining...treat yourself!
Progressive Dinner - is really cool. You go house to house eating with local families and learning how they prepare food, live on the island, etc
The Muri Night Markets - great for cheap islands eats and the food is good and down to earth...open 5 nights a week now. Check out Nuku Kai stall.
Vili's Burgers is good for a good burger, and you could try Palace Burgers that's a bit more local and no frills
If you are craving pizza the pizza guy at the night markets is good
Beluga Cafe is great for breakfast and lunch - they make good Aussie/Kiwi style coffee...plus their homemade chocolate cake is tasty
Muri Beach Club Hotel or Manuia Beach Resort for slightly casual resort dining or Little Polynesia Resort for upscale resort dining
Wigmores is a grocery store, but they have really good ice cream you can get in a cone
Bars
Going Troppo or the Rehab Party bus is a must-do if you want to party
Viana's on the beach - very local and great vibes
The Islander and Moana Sands Lagoon Resort do all-day happy hour
Charlie's is great for live music, drinks and good sashimi pizza
In Aitutaki, check out Tamanu Beach Resort, Pacific Resort Aitutaki, Avatea Cafe and Koru Cafe. The on-site Rumours Café at Aitutaki Escape gets booked out regularly especially by locals.
When it's time to leave the beautiful Cook Islands, check in at Rarotonga International airport and then pop across the road to the Islander Hotel and relax. Don't get too comfortable be sure to get back at the airport in plenty of time for boarding.
Monett Johnston
back to top