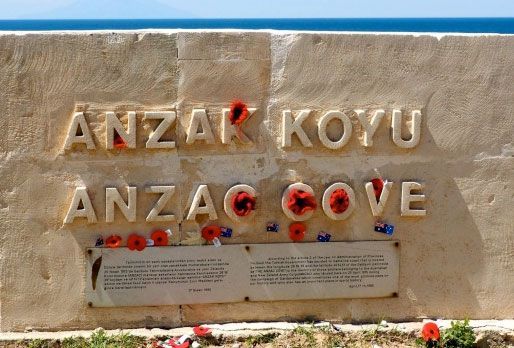 Visiting Gallipoli
The sea gleamed, the waves slowly moved in and out, barely creating a ripple, like they were rocking the cradle that held all our boys. What had I expected? A wild raging west coast surf and an angry brooding coastline?
So this beautiful tranquil place was "ANZAC Cove"! It cloaked me with a feeling of profound peace, even though it is for us all, a place of great sadness, young lives lost.
We had driven there by ourselves, caught the car ferry from Cannakale, where we had stayed the previous night, to Eceabet and then driven to the western shore stopping first at the information centre and to visit the Museum. This was very interesting, although for us Kiwis, we find the focus is more on the Australians and the Turks. There is a display of each of the uniforms, Turkish, Australian, French British and NZ, bullets fused together on impact so ferocious was the fighting. Parts of letters written, that never made it home, a very poignant place and a great way to start your visit to the Peninsula battlefields, armed with a new vision about what really happened here.
Battlefields that have now become beautiful cemeteries, with pretty well tended gardens between each headstone. Monuments that lead you up the hills to the battlefields of significance. There are a few Kiwis' at Lone Pine but our main cemetery is at Chunuk Bair, a lovely monument in amongst the trenches, which were our soldier's homes. We met other people and like ourselves, they wandered amongst these tributes to the fallen, silent, filled with respect that there is peace with all those countries now and that we can all mourn together.
Most tours of Turkey include a visit to Gallipoli and the beginning or end of their itineraries. You can visit Gallipoli every day except for Anzac Day and early August. On 8th August 1915, NZ forces captured Chunuk Bair. An official remembrance service will be held this year and there is a special Commemorative tour.
It is possible to take a return day tour from Istanbul, approximately 11 hours or Cannakale. Cannakale is a pretty coastal town and worth an overnight stop. Tours can be 1, 2, and 5 to 14 days, dependent on what else you choose to see and do in Turkey. A Gallipoli Battlefields tour included in most tours, would visit Lone Pine, the Australian Memorial, Chunuk Bair, the New Zealand memorial, ANZAC Cove, Johnston's Jolly, the original trenches and tunnels and the Nek. It is also possible to take a tour that includes a cruise along the coastline for a sea perspective of the Gallipoli Landings.
For ANZAC day commemoration services, your tour would normally visit the Battlefields area on the 23rd April, taking the ferry ride across the Dardanelles to Cannakale for a two night stay. On the 24th April you may attend the International service at the Turkish memorial or the Commonwealth Service, with a visit to Troy, returning to Cannakale for an afternoon of rest before being taken back to ANZAC Cove late that same evening to find your spot at the site of the Dawn Service. There are locals with food and beverage services, entertainment and the area soon becomes a sea of the thousands who have made the pilgrimage, warmly wrapped up in sleeping bags, maybe their countries flag, waiting to be part of the Dawn Service.
For special Commemoration services, such as this 100th commemoration there are special Ballots for those who are descendants and therefore it is not possible to visit ANZAC Cove without this invitation. Ballot holders can join tours that include the Service, those who do not hold Ballot tickets for the 25th April, visit at another time. This year there are also special cruise ships charters. "Azamara Journey" is one of the ships that will be moored overnight and those with Ballot tickets will be tendered to ANZAC Cove for the Dawn service. A special remembrance service will be held on board for non-ballot holders and Dame Malvina Major will feature. What a fantastic atmosphere there will be, being moored near the Landing beaches on that day.
Turkey is a country of huge historical fact, believed to be the final resting place of the Virgin Mary, the beginnings of the medical profession we know today. Filled with architecture and monuments from the Roman Empire. Turkey is a place of amazing beauty, with underground cities, incredible rock formations and the stunning calcium terraces of Pammukale with its healing waters. So whilst your pilgrimage may be to Gallipoli, ensure you take in the sights of this amazing country. You may think you are only interested in the history of Turkey but make sure you allow time to visit Gallipoli, because you will find in you, hidden emotion.
back to top